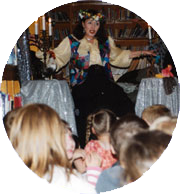 Programs for Children
Education is about developing literacy, and literacy begins with the spoken language.
Workshops for Junior and Intermediate Divisions
Dianne
dresses in costume
brings her "talking stick"
uses props with selected stories
encourages audience participation (with selected stories)
usually tells by candlelight
is experienced in telling to all ages, 5 to 95
provides 45 to 1hr and 15 minute presentations, an answer period, a quiet time to focus and reflect and a "story stone" to each student
when time permits, an opportunity for brief written feedback from students is given
Program Samples for Elementary Schools
Multicultural Stories: Around the World Tales
Tales about Bullies: relating folktales and reality
Stories of Feisty Girls and Plucky Women
Caring and Sharing Tales
Tales of Giants
Tales of Love and Courage
Into the Realm of Fairies
Christmas Tales
Tales for Halloween: Ghosts and Devils, Witches and Monsters
It All Started With an Apple
Scottish Tales
Tales of Old Ireland
Celtic Tales
Animal Tales: Fur & Feather, Flesh & Bone
Canadian, eh? - Historical Tales for Grades 6 to 8
Folktale Tapestry
Kings and Queens, Princes and Princesses: Medieval Folktales
Quest Tales
Native Tales
Fascinating Tales From Canada's History (Grade 6 to Adult)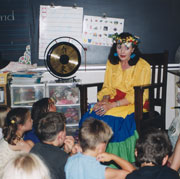 What kids say about Dianne
"I like how you used the candles and the room was in darkness."
"She told it like we were really there at the time all of this was happening." (grade 7 pupil)
"Although some of the words were hard to understand, (Old English, I guess), they didn't wreck the message, but enhanced it." (grade 8 pupil)
"I felt as though I was there with the wind blowing at me."
"I loved how she used different voices. It reminded me of music."