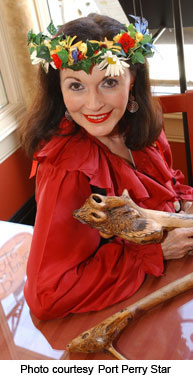 Dianne Chandler
...weaves candlelight dramas cloaked in magic, illuminating folk-fairy tales, legends, and myths that touch the heart and tickle the fancy of all ages.
Equally comfortable under the stage spotlight, in bright sunshine, or around a campfire she has enchanted young and old in many interesting places for more than twenty years as a professional teller. She draws upon her years of experience as an educator and programme planner when preparing for courses, workshops, school presentations, library, church, seniors groups, book clubs, sororities, festival and concert performances.
With talking stick in hand, and dressed in costume, she uses props and audience participation with younger audiences. Dianne believes that storytelling is a powerful healing force that connects us all in a disjointed world. She says, "Everyone needs stories, adults as well as children!"
More about Dianne
I grew up in the peach blossom forest and the green woods of Niagara. As a child I always loved hearing stories and loved to read for hours on end. Bedtime stories were a particular treat and I took full advantage of the fact that as the oldest of three children I could listen in to my little brothers' stories even as I grew older. Because I was the only girl I spent many hours wandering through the woods alone on adventures and quests, dreaming and always making up stories for myself.
During my years as a teacher I felt that storytime was a sacred time to be shared and never to be missed even if the rest of the day's schedule was upset for other school events. And of course I always told the children stories, but I never thought of it as storytelling. When I was working on my university degree at Trent I took a course in Cultural Studies called Oral Narrative. I had no idea what that meant! The course instructor was a storyteller! What a revelation! I didn't know that storytellers existed. The course was pure magic and it changed my life. I have been telling stories as a storyteller to children and adults every since. Now that I have retired from teaching I have more time to share my love of storytelling to all ages.
Dianne now lives in a white house with a red door with her husband and three Balinese cats. They all listen to her stories.