Programs for Adults
Churches, U.C.W., Business Groups, Red Hat Ladies, Sororities
Dianne is experienced in telling stories and designing programmes for special church services and events such as Christmas, St. Patrick's Day and Father's Day, as well as, for Vacation Bible School. She also tells for U.C.W. functions, Red Hat groups, business groups and sorority parties.
She has organized summer, fall and Christmas evening dinner concerts involving other storytellers and musicians at The Piano Cafe in Port Perry. For these events, she has worn many hats, directed set design, emceed and well as story telling.
She is experienced in running 6 to 8 week courses for beginning storytellers.Workshops and courses personally designed for adults. Whatever event you're planning, ask Dianne. She'll tailor-make a programme just for you!
Inspire, enrich, enchant and entertain your audiences, staff, and clients with "literature rich" stories from the global oral tradition of fairy / folktales and literary sources.
Just some of the many possible topics
An Introduction to Storytelling Workshop
Hear a Story, See a Story, Tell a Story Too (Workshop)
Of Fools and Lovers
Tales For a Christmas Night
Tales For All Hallows' Eve
Celtic Tales
Animal Tales
Multicultural Tales
Around the World in Story
Love & Marriage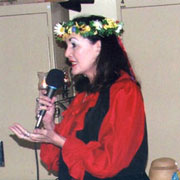 What Adults say about Dianne
"enthralling storyteller; excellent presentation"
"vivid images, told with warmth and passion"
"soothing, spellbinding and enchanting"
"touched my heart"
"I forgot about everything and was transported to the centre of each drama."
"I was very relaxed after the stories. Thank you."